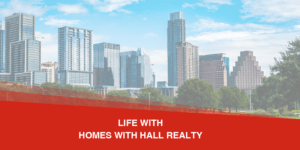 With historic housing demand, a fast-growing city, and lots of amazing neighborhoods to choose from, Austin real estate is pretty exciting! Being a REALTOR® in the area is equally as exciting—especially when you're with Homes With Hall Realty.
Who We Are
We are a real estate brokerage in Pflugerville, TX, launched in October 2020. Our goals include client advocacy through education, career advancement for agents looking to grow, and alleviating stress for families going through real estate transactions. Christie Hall, Owner/Broker has built a close-knit team that embodies our values: 
Service. Honesty. Integrity. Community. Leadership. Win-Win.
Our Local Market
We help clients all across Travis and Williamson counties (and beyond), and we especially love serving the communities in and around north Austin. Our clients thrive in the areas around Austin, where they get more space, growing property value, and local flavor. Pflugerville, Round Rock, Georgetown, Hutto, and Taylor are just a few of the places we've helped our clients call home. 
Working With Us
Being a part of our team means great friendship, a supportive community, amazing clients and a lot of laughs. We love what we do and who we do it with! Our brokerage has been blessed with an ever-expanding book of business; closing over $17 million in sales, hosting homebuyer classes for hundreds of participants, and helping more than 60 families with their real estate goals.
Our client list is growing consistently and we're always on the lookout for great agents to join our team. If you're thinking about making a change in your real estate career, we'd love to talk to you. Get in touch to learn about our reasonable commission splits, free desk space, growth opportunities, mentorship coaching and broker supplied leads.