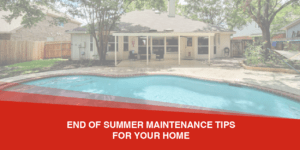 As REALTORS® we see a lot of homes; it's easy to tell which ones have been taken care of. Instead of having to fix things in your home before putting it on the market (or risking you and your family's safety), a little bit of routine maintenance goes a long way. Keep reading to learn the areas of your home that need extra attention before the summer ends.
Kitchen Filters and Exhaust Hood
Start by cleaning all areas of your stove and oven, including your kitchen air filter and hood. Then check for any parts that need replacing or fixing. We suggest doing this a few times a year, to keep grease buildup and odd kitchen smells away. Plus, it'll help ensure you're not at risk of a fire scare.
Ceiling Fans
ICYMI: most ceiling fans can rotate clockwise and counterclockwise. Why? To change the direction of the air they're pushing out. During the hottest months of the year, ceiling fans should run counterclockwise to push cool air down.
Foundation
Take a look through the inside and outside of your home: look for drainage issues, clogged downspouts, uneven floors, and grading issues. Catching indications of foundational problems early means you've got time to consider your options. Even if you're not planning to sell right now, consider the size and cost of addressing issues with your home's foundation: you might need to save up for a fix, and foundational issues can scare future buyers away.
Insect Activity
Summer bugs are a common and annoying problem for many homeowners. Even if you're not seeing them in your home, they may be in your backyard. Check inside for ants, roaches, spiders, and wasp nests. And don't forget to check for less visible bugs that can damage your home, like termites.
Refrigerator
Did you know? The coils on the bottom of your refrigerator need to be vacuumed twice a year to keep them clear of dust and dirt. The coils (called condenser coils) push heat out of your appliance, helping to keep your refrigerator working and cold. When they're covered by dust, they can't work efficiently—which can cost you more in electricity and speed up the aging of your appliance. 
Keep your home safe, comfortable, and market ready with routine checks and maintenance. Staying up on the little things will go a long way to preserving the overall health of your home. If you're thinking of selling, it's a great time to put your home on the market. And if you're planning to stay put, we're happy to share our list of vendor partners for your home maintenance needs. Get in touch, we would love to hear from you.