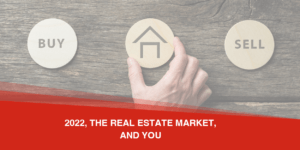 What a year 2021 was for real estate. While our team here at Homes With Hall Realty was able to consistently close deals for our clients, that doesn't mean that we didn't feel the impacts of the 2021 housing market inventory and supply shortages. But, we're hopeful for 2022 and that the new year will mean new opportunities for our buyers and sellers. As always, we've been studying both the national and local market, to make sure that we're up to speed and ahead of the curve when it comes to the ever-changing landscape. Check out the list below as we make our annual real estate predictions.
Buyers Comeback
In 2021, it was a seller's market as home prices rose due to the shortage of inventory and low mortgage rates. During the third quarter of 2021, the Austin metro area median sales price rose by 33.5% to $498,400, outpacing the national median home price by 16% during the same timeframe. This year, we're predicting that home buyers will be in a better position to secure their dream home, due to the real estate market making a subtle shift in buyer's favors.
Increased Inventory
National Association of Realtors are predicting that while the housing market is having record-breaking sales, some of the best over the past 15 years, 2022's performance won't exceed 2021. And we agree. With an increased supply in the new housing construction market and the end of forbearance on the horizon for struggling mortgage payers, more homeowners will decide that now is the time to sell, which will result in increased inventory, and will result in a less intense bidding process, with buyers being up against multiple offers. 
Out Of The Box Shopping
Rising home prices, new construction, work from home, and interest rates will continue to drive out-of-the-box shopping when it comes to buying, and sometimes, selling a home. Expanded search areas can open up new possibilities and great opportunities for both buyers and sellers in 2022. 
So what does this mean for you as a potential home buyer or seller in 2022? No matter which side of the fence you're on, now is still a great time to take advantage of the current real estate market. Our team is here to advise, and guide you throughout the process, to help ensure that you're making the best decision for you and your family. Contact us today so that we can talk through your options, and help you fulfill your 2022 real estate needs.