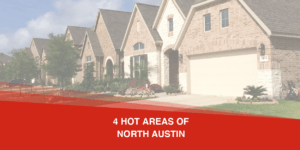 We love the areas in and around north Austin, and not just because our office is located in Pflugerville. Rising property values, room to grow, new attractions and job opportunities are just a few reasons why it's a great area to call home. Keep reading to learn about four top spots in Williamson County and north Travis County.  
Pflugerville
Located in northeast Austin, Pflugerville has been growing—and for good reason. It's just north of a tech hub that's home to Dell, Apple and 3M, with local businesses and major shopping centers to serve all your needs. Plus, it's just down the road from the Domain and the new Q2 Stadium.
Taylor
Head north from Pflugerville and the city fades away, replaced by local businesses, a Quaint Historic Downtown, small town charm and plenty of open space in Taylor. The city is growing quickly, with Samsung set to break ground in 2022 on a facility that will bring thousands of new jobs. This area is one to watch!
Hutto
Also north of Pflugerville, Hutto has a lot to offer. It's known for Community Events, a Farmers Market, Hutto Market Days, and more. You'll love the Co-Op District: a mixed-use, walkable development and community gathering space. Looking for more space to grow for your next home? There are many new neighborhoods to choose from with room to spare.
Georgetown
North of Round Rock, is Georgetown. The city is big on festivals, holiday events and public parks. Like Hutto and Taylor, it's home to a picturesque downtown with a historic square. Here you can avoid the bustle of the big city with everything you need in nearby Round Rock.
Pflugerville, Hutto, Taylor and Georgetown are highly recommended by our REALTORS®, and have something for everyone. We'd love to help you make one of them home. And if you're already living in one of these areas, it's an especially great time to sell, with Williamson County median home values upwards of $460K. Get in touch to see what you could get for your home.