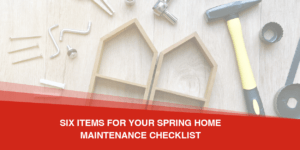 Keeping a list of yearly home maintenance tasks can keep your home's value up, give peace of mind that your residence is safe and healthy, and be a big leg up on your to-do list if you decide to move. Consider this the spring cleaning checklist for your home.
Smoke and Carbon Monoxide Detectors
Make sure your family is safe from fire and carbon monoxide. Install a fresh set of batteries in all smoke and monoxide detectors. Test each one and ensure they're free of dust so you know they're in good working condition.
Air Conditioning Inspection
No one wants their AC to break mid-summer; and even worse if you can't get a specialist in because they're booked up in the busy season. Schedule an inspection (or do it yourself) in early spring, and don't forget to clean your AC unit's Condensate Line to avoid clogs.
Kitchen Filters and Exhaust Hood
Weird smells, greasy surfaces and even the potential for a fire scare? No thanks! Clean all the areas around your stove or range, including the kitchen air filter and exhaust hood.
Exterior Surfaces
Keeping up on small exterior issues can mean a quick & inexpensive fix, over a big remodel down the line. Check out the exterior surfaces on the house and any outbuildings for cracks and chips that need touch ups. Keep your energy bill down by re-caulking around windows and door openings.
Pest Check
Take a look around your property for signs of pests, especially in hard-to-reach areas like the attic. And don't forget to schedule yearly pest maintenance to keep the bugs away.
Curb Appeal
We're blessed with almost year-round great weather in Austin. Make the most of your yard by keeping shrubs pruned.. Late spring is a great time for this: spring-flowering shrubs need pruning after they've bloomed, and summer-blooming plants should be pruned before they begin to flower.
Now that you've attended to six areas that are important to the wellness and safety of your home, you're ahead of schedule if you're thinking about a move. The Austin real estate market is still great for sellers, and there is real demand for homes like yours. Give us a call: any of our agents can walk you through the selling process and get started with information about your market and what your home may be worth.