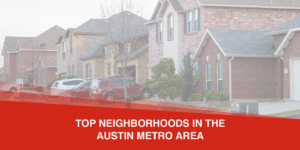 Located in some of the most beautiful natural areas of the Texas Hill Country, Austin and the surrounding areas offer a range of neighborhoods to choose from. With national magazines such as Forbes and Money touting the quality of life here, the Austin region has continued to grow and blossom. Let's take a look at five of the hottest neighborhoods today.
East Austin
Two miles from downtown Austin, East Austin offers a diverse mix of culture and housing options. The area continues to undergo fast-paced development and has become one of Austin's sought-after neighborhoods.
What kind of homes will you find in East Austin? Refurbished single-family homes and newly built condos and townhomes are just some of the properties available to prospective buyers. Also, despite the median price tag of $570K per home, you can still find deals in this vibrant community.
Home prices have increased by 41% year over year (June 2021 data) and sell within 35 days, which is slower than the 15-day turnovers of 2021. Conversely, sales are up, with 190 homes sold in June versus 169 last year.
Pflugerville
Pflugersville lies 24 miles northeast of Austin. Money Magazine described it as a charming small town and included it on its list of Best Places to Live. The city has newer homes with an average build date of 2009 and large properties with over 2,400 square feet of living space.
Master planned communities such as Canterra and upscale neighborhoods such as Gatlinburg and Gaston Sheldon attract buyers to this picturesque town.
Hutto
Hutto is a small suburb of northeastern Austin. This fast-growing area is 30 miles north of Austin and lies in Texas Big Sky country. Beautiful vistas, ranch properties and small acreage farms cohabitate with historic Victorian homes in this eclectic but scenic neighborhood. The flat topography and spacious property make it ideal for home buyers seeking rural living close to larger cities.
In June 2021, prices in the area were up 55% year over year, and the median home price is $390K. With an average inventory turnover of 24 days, the market is slightly slower than last year, which had an inventory turnover rate of 22 days. 
Round Rock
Round Rock represents the clash of technology and lifestyle in Texas. The town's fishing ponds and creeks have turned into master-planned communities like Paloma Lake, Forest Creek and Siena. The growing population consists largely of highly educated, sophisticated professionals.
Home buyers can find a variety of homes and price points, including modest ranch style one story homes and estate-style Tuscan mansions. Homes in the area have a variety of exteriors such as stucco, stone and brick and many feature native plants in the landscaping scheme. As of June 2021, prices in Round Rock were up 50% over the previous year with sales prices averaging $474K.
Manor
Manor, TX, 12 miles northeast of Austin, is a friendly community of around 5,200 people. This small town covers just 1.1 square miles but has a wide array of outdoor activities, such as Jennie Lane Park in Manor's downtown area.  
A variety of homes for sale include estates on multiple acres and more modest single-family homes. Home designs often reflect classic urban styles and include wood decks, covered porches and attractive landscaping with prominent outdoor entertaining areas.
If you are considering making a move to an area in or around Austin, contact us and we'll assist you in determining what the best option is for you, based on your specific needs, work and play preferences.