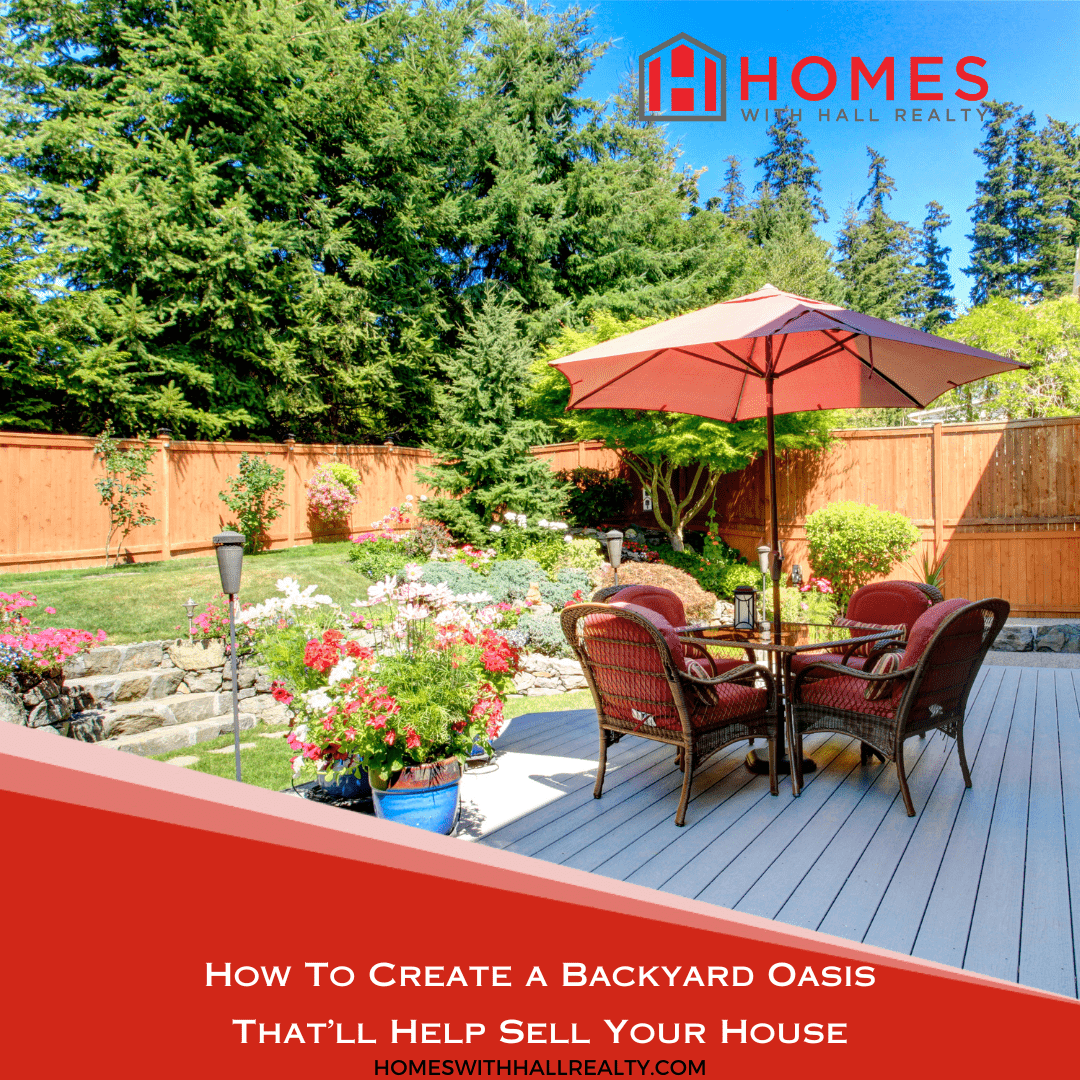 Whether you're a house flipper or a homeowner preparing to sell your property, upgrading your outdoor living space can make a big difference. Buyers have always been impressed by lush backyards that provide ample space to entertain and play—and after a year of staying home due to the coronavirus pandemic, that matters more than ever.
You want to wow people when they walk outside! That means turning your backyard into a beautiful, livable amenity by doing basic maintenance and adding a few cosmetic upgrades.
With home buyers seeking next-level backyard spaces, which outdoor improvements are the most cost-effective? Consider these projects to create a backyard oasis buyers will love.
De-clutter the Yard
De-cluttering is often the first step when staging the interior of your home, but it's also important to make sure your yard looks open and spacious. We believe simple things will give you more bang for your buck. Add flower pots around the backyard and entrance, add some mulch on the garden beds to help make sure the flowers pop out at you, and tighten up any overgrown bushes or trees.
Create a Lush Landscape with a Freshly Seeded Lawn
We also advise sellers to mow the lawn, pull the weeds, and plant new seed grass in bald areas or even re sod the yard if necessary. These are all things that will class up your property and make it more appealing to a buyer.
Paint or Replace the Fence
Sprucing up your fence can make the entire yard look well-maintained. If you already have a fence, be sure that it is in great condition. Fix or replace loose or missing sections. Make sure the paint or stain isn't flaking or chipping. Power-wash, paint, or stain as needed. If you don't have a fence, consider adding one, as it can improve your backyard's aesthetic and provide a feeling of security and peace of mind. These factors could increase the property's value and encourage a faster sale. A permit and a property survey may be required to install a new fence, and there may also be height restrictions. However, most towns make the addition of a fence easy.
Invest in a Patio
Transforming your backyard into an outdoor living space will turn heads and create eager buyers. Most experts we spoke with recommend adding a patio, which usually doesn't require permits and is easier to build and maintain than an elevated deck. A patio can be installed quickly, which keeps the cost down. If you already have a deck in place, check to make sure it's structurally sound before selling. A home inspector will ding the property if there is a safety issue. If the deck is in good condition, we suggest power-washing, restaining, or repainting it for a fresh look. Moss can look like mold, and chipped paint ages a property drastically. Both are unappealing, especially for buyers who are not ready to take on home improvement projects. But don't build a deck solely to help sell the property. It may not be the style a buyer wants. It most likely will need a permit and may increase the taxes for the new owner.
Coordinate Your Patio Decor
Fresh furniture on your patio can help bring your outdoor space to life. We recommend investing in a few new items to stage the outdoor living space. There are so many inexpensive options today that it's worth getting something in good condition to highlight the space. If the buyers like the new patio furniture enough, they might want to write it into the offer! A small weatherproof sofa and end table to complement an existing dining table can help create a cozy outdoor living room. Replacing the cushions on your existing patio furniture is also an affordable way to spruce up the space. Outdoor pillows can add a pop of color and make an area feel welcoming. The goal is to show how the area can be used and what a benefit it can be to the home.
Consider these Additional Touches to Set your Yard Apart
Individual home buyers may have different needs or desires for their backyard space, but most buyers share one thing in common: They want the backyard to be livable. People love entertaining outdoors. We recommend adding to the amenities you may already have, such as a backyard grill, to create an outdoor kitchen area with cabinets and a hibachi grill. Outdoor lighting, speakers, and a waterproof TV can all help contribute to that vibe of creating an outdoor room that prospective buyers will love.
https://www.realtor.com/advice/home-improvement/how-to-create-a-backyard-oasis-thatll-help-sell-your-house-and-fetch-top-dollar/